We have just bought our fiftieth property and are entering Croatian market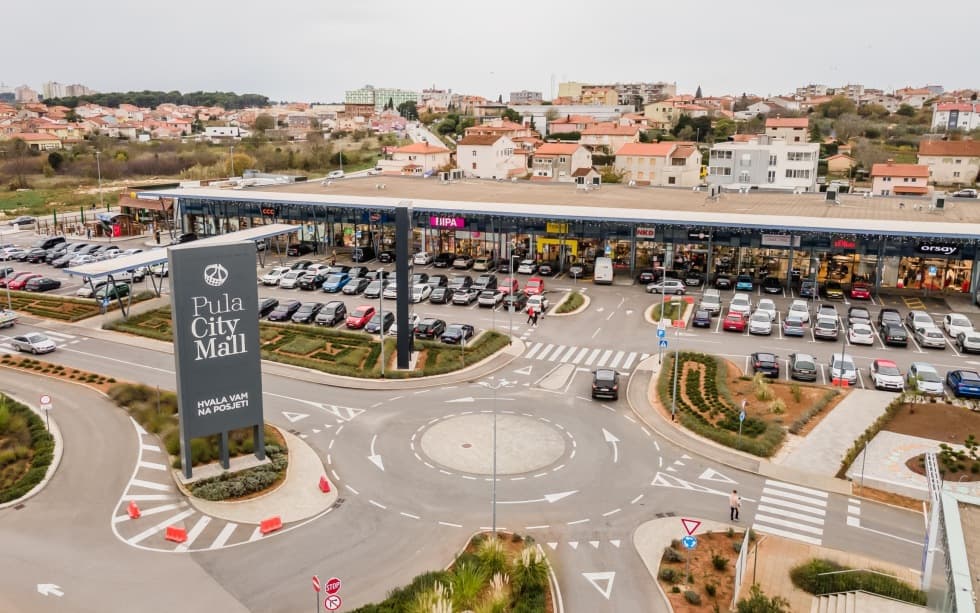 The main tenants in the 37,000 sqm of retail space are Interspar, Müller, dm drogerie, Intersport, Hervis, TEDi, JYSK, Decathlon, Harvey Norman, Mc Donalds and all major brands from the textile discount sector such as C&A, KiK, New Yorker, Deichmann, CCC, Pepco, Orsay, NKD or Takko.
Pula, with its 65,000 inhabitants, is the largest city of the Istrian county and is located in the very south of the Istrian peninsula. A catchment area of over 100 thousand inhabitants guarantees high visitor numbers to the retail park all year round, even outside the above-average summer tourist season.
Pula City Mall has been built in three phases gradually since 2016. The last phase, which included, in addition to the construction of a new building, the expansion of space for some existing tenants, was completed in 2020.
The retail park worth EUR 70 million, was purchased from Austrian development group MID-Bau, with BKS Bank AG as financing partner.
"This acquisition marks the crossing of a number of significant milestones in the history of the ZDR Investments Group. We are completing the 4th year of successful development of our real estate funds, entering the 5th country with Croatia, and at the same time buying the 50th property in our portfolio, which exceeds the 200 thousand m2 of leasable area", comments JUDr. Zdeněk Prázdný, partner of ZDR Investments Group, on the acquisition.
"The Croatian retail real estate market has seen significant development in recent years. The new projects are largely being developed by experienced German and Austrian commercial property developers, who recognized early on the opportunity of the attractive markets immediately across the Austrian border, in Slovenia and Croatia", adds Radek Hladký, Partner at ZDR Investments Group.
"With this acquisition, we have made significant progress in our international expansion. Pula City Mall meets all our requirements for tenant creditworthiness, long-term lease contracts and above-average return on equity. Attractive foreign properties now account for 53% of ZDR Investments' portfolio", comments Roman Latuske, Partner at ZDR Investments.